The Cooperative Energy Mix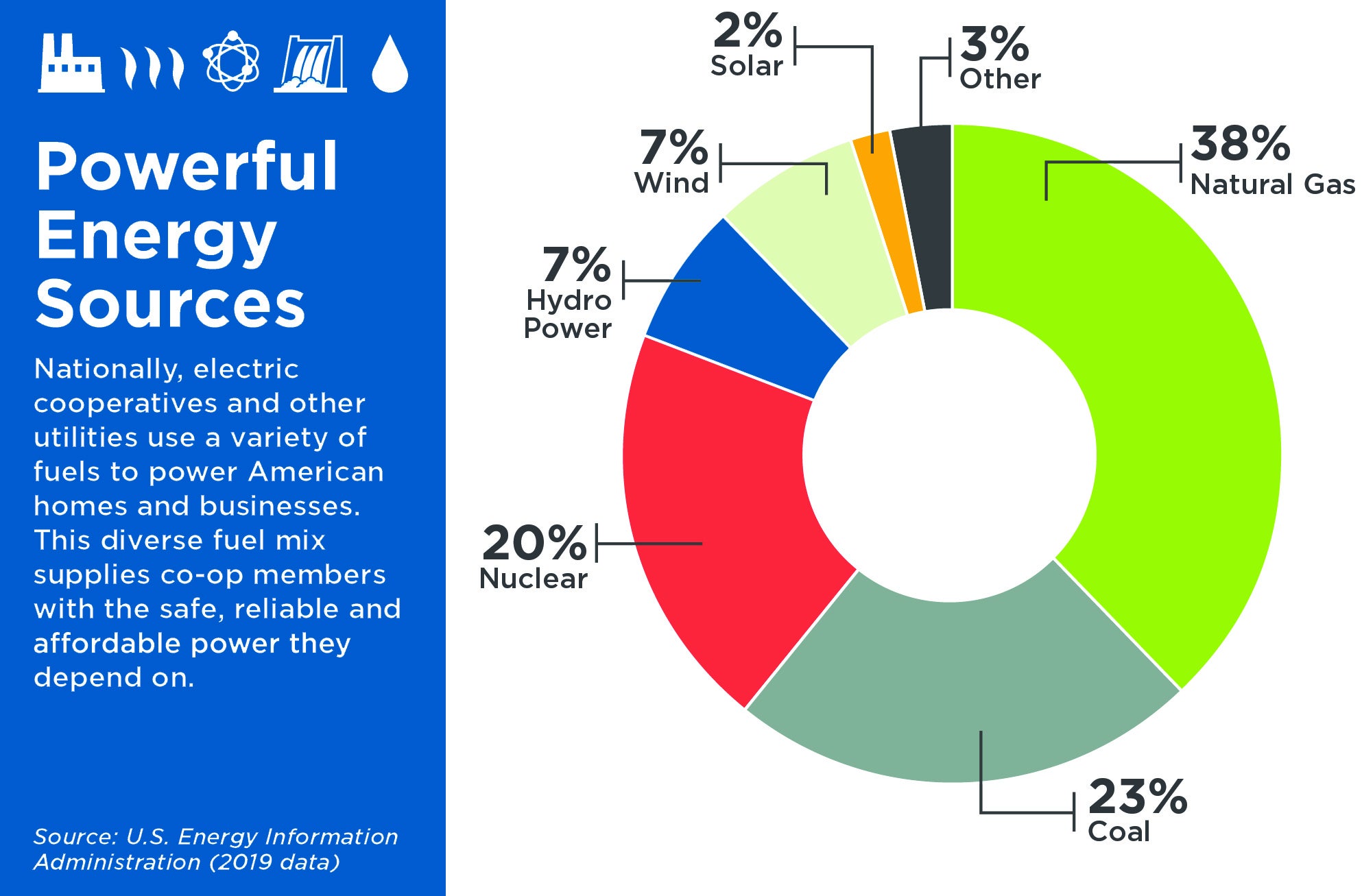 For generations, the electric utility industry's main fuel source was coal. Coal traditionally provided about half the electricity in the country because it was reliable, plentiful and relatively inexpensive. That backbone was supplemented by nuclear power, hydroelectric power and natural gas.
But that's changed radically over the last 15 years.
The supply and price of natural gas fell dramatically with fracking and other drilling technologies. Natural gas plants offer other advantages—they can be built smaller, faster and cheaper than coal stations, and they can be controlled more quickly as power demand changes from day to day. Coal costs rose with environmental regulations, and renewable energy sources received more attention because of their benefits to the environment.
As a result, by 2016, natural gas replaced coal as the largest source of electricity. In 2019, natural gas made up 38% of the electric utility fuel mix; coal, 23%; nuclear, 20%; and hydroelectric power, 7%. The non-hydro renewable energy share of electricity production has risen from almost nothing 10 years ago, to 7% for wind and 2% for solar—and both continue to increase rapidly.
Those statistical trends hide two revolutionary changes.
One is that renewable energy doesn't act like the more traditional power plants. A coal plant can run all the time, while wind and solar shut on and off as Mother Nature makes changes every hour––meaning the wind doesn't always blow, and the sun doesn't always shine. But with the second revolutionary change—the smart grid—the use of these complex renewable energy sources can be managed better.
The smart grid arrives
The digital transformation began more than two decades ago, and disruptive forces have had an impact on the power sector ever since. Electric utility dreamers foresaw a shift from an analog network of levers and switches to a digital system that includes automated power management and new ways to manage the flow of electricity.
That smart grid has arrived. Power outages can be detected more quickly, and you can even track the repair process on your smartphone. Digital software can more effectively manage the output of rooftop solar panels, sending electricity back to the utility when the homeowner isn't using all the electricity they produce. The smart grid can also make solar and wind energy more useful through the use of batteries. It's a lot of technology that helps ensure you receive uninterrupted, reliable service.
Customer-Owned Generation
Cooperative customers are interested more and more in self generation.

Cooperatives want to be partners in ensuring that your system is right sized so you can feel assured that you are getting the savings that you expect. Before you purchase a generation system, please contact your electric provider to ensure your investment is a success.

It's also important to understand that because your cooperatives have fixed infrastructure investments in the lines and poles that they operate to provide power, and because customers with self-generation are provided services in both taking electricity when your self-generation is not providing, and selling generation back to the grid when the system is overproducing, there are some unique costs and services that are associated with being a consumer-member with self-generated power.  

Our cooperatives try to maintain fair and equitable rates for all consumers.